Cody Jussel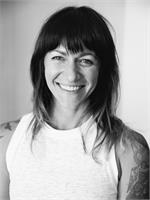 Senior Instructor.
Cody discovered Pilates many years ago as a means of enhancing her dance practice and overall body awareness for more efficient movement. However it was not until the birth of her daughter in 2007 that she got serious about her Pilates practice. Not only did Pilates help her rebuild strength postpartum but also allowed Cody to discover a deep inner body connection that helped bridge the inner and outer world, connecting mind to body in the most profound way. Cody has taught the Pilates method since 2007 and has had the opportunity to work with a broad spectrum of clients from professional athletes post-surgical rehabilitation and everyone in between.
Cody holds a master's degree in kinesiology with an emphasis in adaptive sports and orthopedic rehab/corrective exercise and is certified through the Midwest Pilates Institute teacher-training program, formerly a branch of Core Dynamics, in mat and all apparatus, as well as a post certification study in Mastery Technique from Kathleen Konklin. Additionally, Cody holds a certification from the Pilates Method Alliance, the national certifying board for Pilates instruction in the United States.
Cody is a level 1 CrossFit trainer and has obtained continuing education credits in Rock Tape application, Selective Functional Movement Assessment (SFMA), Functional Movement Assessment (FMS), and has spent over 500 hours of observation in various physical therapy clinics.
Cody Jussel instructs the following:
The wall mounted springboards are a great way to get a total body workout utilizing springs based resistance (which can make exercises more achievable and also more challenging, depending on the circumstance and level of the class). The springboard repertoire was originally modified from the original Cadillac exercises, but has been expanded to include familiar favorites from the Mat and Reformer, as well as a lot of exercises you can't do anywhere else. Most Springboard classes also include some Mat and & Props repertoire for flow.


Intermediate - Pilates experience required. Intermediate level exercises will be the focus (with any necessary modifications).