Diana Chen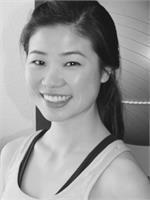 Student Instructor.
Diana discovered Pilates, primarily as a form of stress relief from a demanding job. She loved the mind-body connection and presence that the practice of Pilates brought to her life. She brings a sense of curiosity to her teaching and loves supporting her clients on their personal Pilates journey.
Diana has found movement to be a catalyst for healing throughout her life. Years ago, she broke her leg in an accident, resulting in a gait imbalance. As part of the recovery process, she picked up running in order to gain confidence in moving again. She has since experienced how Pilates can help recover from and prevent injuries and bring her body into balance.
Diana has completed a comprehensive Pilates teacher training with Kiki Lovelace and Alissa Gibbins at Innerstellar Pilates and Yoga. She strives to keep learning and growing, and is also in the process of completing the Balanced Body Bridge training at Agile Monkey.
Diana finds inspiration in spending time in nature and from practicing yoga, meditation and qi gong. She enjoys helping people at every fitness level unlock the movement potential in their own bodies, and to feel confident in their own skin.
Diana Chen is currently not instructing any classes.