Emma Schacter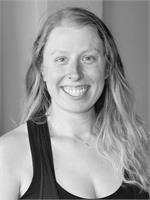 Front Desk Staff / Certified Pilates Instructor
Emma is part of the Front Desk staff and is a Certified Pilates Instructor.
Emma was born and raised in San Francisco - growing up she loved rock climbing, practicing yoga and cycling. After graduating from college with a bachelors degree in Photography, she spent some time working and traveling, and ended up finding her way to Santa Cruz. It was here that Emma found and fell in love with Pilates. For her, Pilates is therapy both for the body and the mind. No matter what has been going on outside of the studio, once there, everything else sheds away.
Her goal in teaching is to provide others with the same physical challenges and accomplishments that she finds in Pilates, as well as some much deserved "me time."
Emma Schacter is currently not instructing any classes.