Rose Nolen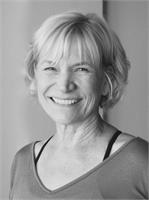 Certified Instructor
Rose has always loved to move. As a child she danced around the house until her parents finally decided dance lessons were in order. She studied ballet and modern dance, and then earned her BA in dance education from the University of Maryland. Upon graduating she performed professionally and then started her own dance company. She began studying Pilates to help with back pain, and over time appreciated the physical benefits as well as the mindful approach to movement.
While raising a family, Rose earned a California Multiple Subject Teaching Credential, and as she started to teach in the classroom she integrated creative movement and Pilates. She became convinced that Pilates was an incredibly flexible and powerful technique that served a wide range of physical needs from adults to children, as well as athletes and an aging population with varying abilities.
In 2008 Rose completed her comprehensive Pilates training with Rael Isacowitz and BASI Pilates, and then studied Polestar Pilates and Therapilates with an emphasis on osteoporosis. Rose began teaching adult classes shortly thereafter and hasn't stopped since. After retiring from teaching third grade, Rose moved to Aptos and began studying at Agile Monkey to continue her own practice. She was thrilled to find a knowledgeable, caring community of gifted teachers who inspired her to participate in the Balanced Body instructor training program. She feels certain that her Pilates practice has helped her to continue moving and dancing with joy, and is excited at the prospect of sharing her love of movement with others.
Rose Nolen instructs the following:
The wall mounted springboards are a great way to get a total body workout utilizing springs based resistance (which can make exercises more achievable and also more challenging, depending on the circumstance and level of the class). The springboard repertoire was originally modified from the original Cadillac exercises, but has been expanded to include familiar favorites from the Mat and Reformer, as well as a lot of exercises you can't do anywhere else. Most Springboard classes also include some Mat and & Props repertoire for flow.

Beginning/Intermediate - some Pilates experience strongly recommended. Beginning and Intermediate level exercises will be the focus (with any necessary modifications).




Pilates Mat is the foundation for the entire methodology, which aims to create a balance of strength and flexibility in the body. Pilates challenges your mind and strengthens you from the inside out, enabling you to perform complex movements safely, with power and grace. The foundation of the Pilates Mat repertoire builds from fundamental exercises that help you to learn the underlying concepts and movement principles. You will learn things like how to do a proper upper abdominal curl without straining your neck, and how to stabilize your pelvis so that you can protect your back while working out. As the client progresses, the exercises become more complex, challenging them to use their accumulated knowledge to advance safely through the levels.

Props are often incorporated into classes to add fun, release work, balance challenges, refinement of movement patterns, a little help or some extra resistance into the classes. Props may include rollers, balls, therabands, ultra fit circles and more.

Beginning/Intermediate - some Pilates experience strongly recommended. Beginning and Intermediate level exercises will be the focus (with any necessary modifications).




Intro Offe

r: Try your First 3 Core Align Group Classes for only $100!

The CoreAlign improves posture, balance and functional movement in a fast-paced, challenging workout unlike anything else.

Developed by physical therapist Jonathan Hoffman, the CoreAlign method stimulates core stability muscles to fire in perfect timing while performing practical and challenging exercises, very deep stretches and core controlled aerobic training. The method is used for musculoskeletal rehabilitation, performance enhancement and as a regular sport for a healthy lifestyle. It is a perfect compliment to Pilates training, but can also be done independently.

At Agile Monkey, we are excited to be able to introduce the CoreAlign to the Santa Cruz community. It is an amazing system that utilizes the Pilates principles but brings the movement theory into a very practical upright application, and is appropriate for clients of all fitness levels.

Beginning/Intermediate: This class is appropriate for clients who have some experience on the Core Align and/or Pilates.