Courtney Sondreal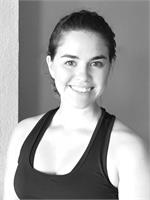 Certified Instructor.
Courtney grew up on an apple farm in the beautiful Watsonville countryside. Throughout her childhood she played soccer, volleyball, and could be found boogie boarding at the beach all summer long. She received her degree in Health Promotion in 2013. While in college she joined club teams for volleyball and ultimate frisbee, and became addicted to running, snowboarding, mountain biking, and cross training classes. These activities were extremely fun, unfortunately they also led to knee and back injuries. Unable to exercise and desperate for a way out of pain, she turned to Pilates as a last ditch effort and fell in love with it. Finally she found an activity that truly nourishes and strengthens her body. Courtney has been known to say that after a Pilates session she feels as if she has received a massage because her body is in such an even and relaxed state. One of her favorite things about Pilates is that it's all-inclusive; there seems to be something for everyone whether you are a conditioned athlete or returning to exercise after an injury.
Courtney chose to become an instructor so she can share and help others on their path to greater strength, mobility, stability, and overall health. She hopes to learn all she can about how movement can bring healing to each one of us on an emotional and physical level.
Courtney Sondreal is currently not instructing any classes.