Barb Imhoff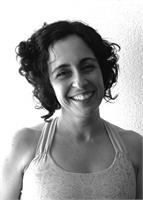 Certified Pilates Instructor.
Barb Imhoff is an Acute Care Nurse Practitioner and Certified Pilates Instructor at Agile Monkey. She has been an avid Pilates practitioner at Agile Monkey since 2009, where she fell in love with the practice while working with Ky Carnell-Russell. Having Ky as her mentor has motivated her to pursue a second career as a Balanced Body Pilates Instructor.
Barb comes with a background in competitive bodybuilding and ballet, as well as Spanish Classical Flamenco (she was a dance company member for the Patri Nader Dances of Spain from 1988-1992). Her fascination for the mind-body connection and how Pilates has made a long-lasting improvement in her mental and physical well being has kept her craving for more. For Barb, "Pilates is my sanctuary, a place to leave my busy life at the door, to take a deep cleansing breath, focus and ground myself into the practice of the ultimate movement principles of Joseph Pilates". Observing the exceptional group of talented Agile Monkey Pilates instructors is also a motivating factor towards taking the next step of becoming a Pilates instructor. Barb's over 20 years of nursing experience, her hands on ability to care and nurture for others and how that relates closely to teaching Pilates has led her to pursue her Pilates Certification with Balanced Body, which she attained in 2015.
Barb's passions are her love for music and dance, physical activity, her family, her granddaughters, and her LOVE of Pilates at Agile Monkey.
Barb Imhoff is currently not instructing any classes.