Jennifer Considine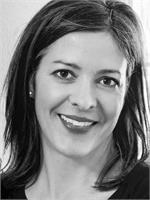 Studio Manager / Certified Pilates Instructor
Jennifer discovered Pilates in 2010 after both a Physical Therapist and a Chiropractor suggested it as a way to relieve her low back pain. It worked! She realized immediately that she was on the right path, and has been committed to her personal practice ever since.
Jennifer joined the Agile Monkey front desk staff in early 2013, with the added intention of completing the Balanced Body instructor training program. After many years of dedicated study and with her two sons finishing college, she fulfilled her goal of becoming a certified Pilates instructor.
Jennifer's approach to teaching is guided by her passion for Pilates, and the desire to help other's achieve their goals in a supportive and meaningful way. She feels great, and she wants you to feel great too!
Jennifer Considine instructs the following:
The Pilates Reformer is an extraordinary piece of exercise equipment allowing resistance and support for exercises involving every part of the body. Our Reformer classes will challenge you to develop core and extremity strength, stability, flexibility, coordination and balance. The wide range of exercises provides a stimulating workout for clients at any level of ability.

Please note that all of our Reformer classes will organized at the discretion of the instructor and interest of the clients, and may utilize some time on the mat or other equipment (Tower, Chair, Barrels, etc) to ensure the best class experience.

Beginning- No experience required. Pilates Principles and beginning level exercises will be the focus. A great place to start for all students new to Pilates. Clients with serious injuries or limitations, should first take with an Introductory Private Session and/or seek the advice of an Agile Monkey instructor before taking class.