Amy Lamendella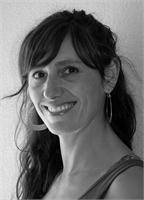 Certified Instructor.
Amy grew up in the Santa Cruz Mountains and has always been an athletic person. She came across Pilates in 2006 while living in San Francisco, and instantly fell in love with the equipment. She was impressed with a workout system that could at the same time be subtle, challenging, powerful and so fun!
Amy is a "systems" person and her favorite aspect of Pilates is bringing the principles and movements out of the studio and into every day life. Whether sitting at a desk, driving or working in the garden, Amy incorporates Pilates to help her stay balanced, healthy and strong.
Amy completed the Balanced Body Instructor Training Program at Agile Monkey in 2012 and became certified in 2015. She is excited to continue to deepen her understanding and share her passion for functional movement as a Certified Pilates Instructor at Agile Monkey, and to help people change their bodies and their lives in a positive way.
Amy Lamendella instructs the following:
The wall mounted springboards are a great way to get a total body workout utilizing springs based resistance (which can make exercises more achievable and also more challenging, depending on the circumstance and level of the class). The springboard repertoire was originally modified from the original Cadillac exercises, but has been expanded to include familiar favorites from the Mat and Reformer, as well as a lot of exercises you can't do anywhere else. Most Springboard classes also include some Mat and & Props repertoire for flow.

Intermediate - Pilates experience required. Intermediate level exercises will be the focus (with any necessary modifications).




Deepen your Pilates practice, and increase the fun with use of a large ball. Balance, proprioception, coordination and core strength will all be challenged.

Pilates is a method of exercise that aims to create a balance of strength and flexibility in the body. It challenges your mind and strengthens you from the inside out, enabling you to perform complex movements safely, with power and grace. The foundation of the Pilates Mat repertoire builds from simple exercises that help you to learn the underlying concepts and movement principles. You will learn things like how to do a proper upper abdominal curl without straining your neck, and how to stabilize your pelvis so that you can protect your back while working out. As the client progresses, the exercises become more complex, challenging them to use their accumulated knowledge to advance safely through the levels.


Beginning/Intermediate - some Pilates experience strongly recommended. Beginning and Intermediate level exercises will be the focus (with any necessary modifications).