Ky Carnell-Russell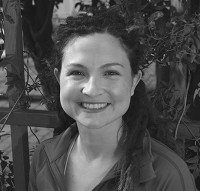 Senior Certified Pilates Instructor, Balanced Body Pilates Master Instructor, Anatomy in 3D Instructor
Ky Carnell-Russell is a senior certified Pilates instructor with advanced training and years of experience in Pilates-based rehabilitation. She worked as a Pilates-based rehabilitation specialist at the world-renowned St. Francis Hospital's Center for Sports and Dance Medicine for several years. Ky co-owned and directed a thriving Pilates studio in San Francisco for four years, and is excited to have relocated to beautiful Santa Cruz, and to be teaching at Agile Monkey.
Ky is a faculty member of Balanced Body and co-teaches the instructor training program at Agile Monkey, as well as teaching Anatomy in Three Dimensions locally and across the US. She is also faculty for the Center for Women's Fitness Pre/Post Natal Pilates Specialist Training. Ky recently received her Master's degree in Kinesiology at San Jose State University.
Ky is devoted to helping her clients experience ease and joy in movement, as well as feeling the personal satisfaction that arises from progressing and excelling in a challenging physical activity. She loves teaching Pilates to clients in all stages of life and well-being, and includes elements from her background in rehab, fitness, anatomy, and dance into her sessions and teacher training workshops. Ky has had successful experiences working with clients with practically any injury or chronic pain condition and truly believes that Pilates has something to offer everyone.
Ky Carnell-Russell instructs the following:
The Pilates Reformer is an extraordinary piece of exercise equipment allowing resistance and support for exercises involving every part of the body. Our Reformer classes will challenge you to develop core and extremity strength, stability, flexibility, coordination and balance. The wide range of exercises provides a stimulating workout for clients at any level of ability.

Please note that all of our Reformer classes will organized at the discretion of the instructor and interest of the clients, and may utilize some time on the mat or other equipment (Tower, Chair, Barrels, etc) to ensure the best class experience.

Advanced - Pilates Reformer experience required. Advanced level exercises will be the focus and the pace will be fast. Only for skilled participants with extensive knowledge of the Pilates repertoire who are not suffering from injury or serious physical limitations.